A man, a dog and the end of their fairy tale | Winchester Star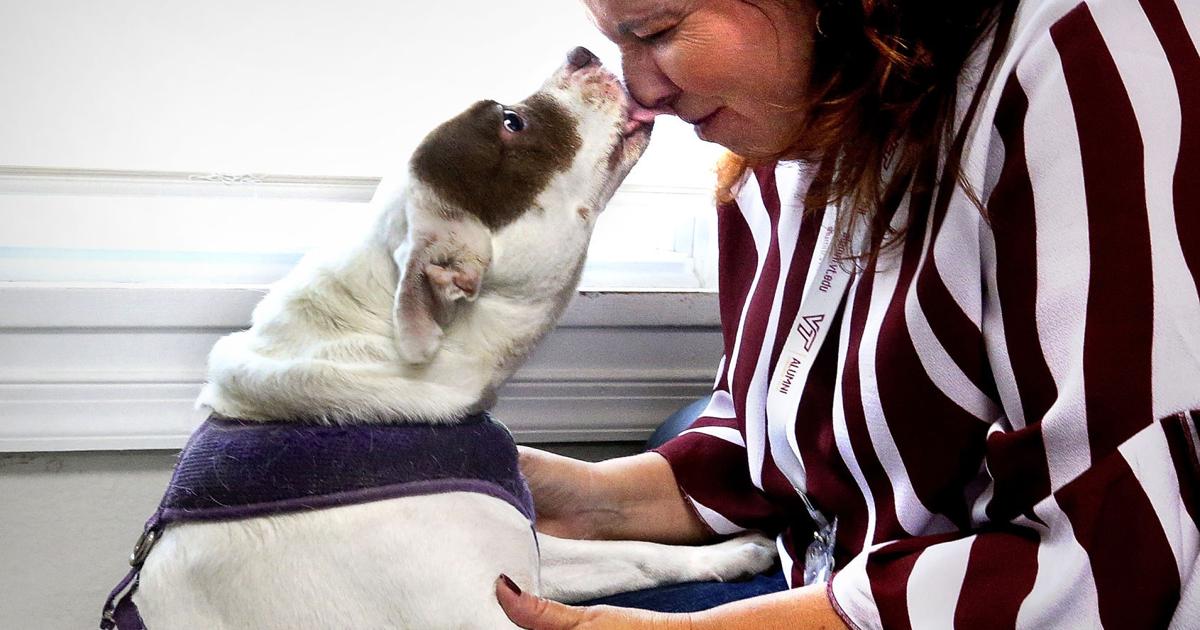 "There is no happy ending, just happy days, happy times." ~Jonathan Tropper
WINCHESTER — May 12 was the happiest day of Scott Ashwood's life.
After six years of homelessness, preceded by five years of nursing home care, the 50-year-old had regained enough health and independence to move into his own apartment.
Even better, he was able to take his beloved dog with him. Scott and Harley Girl – a mixed-race pup who spent around two years homeless – developed a special bond after she was adopted by the Winchester Rescue Mission in February 2020 and moved into the association's homeless shelter at 435 N.Cameron St.
It was inspiring, comforting, the stuff of fairy tales.
Unfortunately, the fairy tale ended tragically.
On September 1, Scott was found dead in his National Avenue apartment. He is believed to have died around three days prior, leaving 4-year-old Harley alone, scared and trapped.
"Endings are the saddest part, so just give me a happy middle and a very happy beginning." ~Shel Silverstein
On the morning of September 1, Winchester Rescue Mission Executive Director Brandan Thomas received a call that Scott had missed a court appearance regarding child support payments.
"We've been listed as his emergency contact," Brandan said. "We immediately assumed something not great."
This is because Scott was severely diabetic. In January, he tested positive for COVID-19 and his body went into overdrive trying to fight off the virus, but he had been so weakened by diabetes that he fell into a coma for several weeks. Brandan said it was a miracle he survived.
Once Scott came out of the coma, his health improved and, with Harley by his side, he took control of the depression that had crippled him emotionally for years.
On May 12, Scott was well enough to leave the mission and move into his own apartment. Since he had formed such a strong bond with the dog the mission had adopted from the SPCA of Winchester, Frederick and Clarke Counties two years earlier, he was allowed to take Harley with him.
Brandan connected Scott with the ongoing supportive housing program run by Front Royal's Northwestern Community Services. According to the National Alliance to End Homelessness, permanent supportive housing is an initiative that helps chronically homeless people move into affordable housing and receive ongoing support services to help them find work and to stay healthy.
"He was so happy," said Vicki Culbreath, Winchester's rescue mission development coordinator. "It was the first time in 11 years that he had his own home. … He finally saw the future he could have."
When Brandan learned that Scott had missed court, he went to his apartment and knocked on the door.
"I heard the dog inside but he wasn't responding," Brandan said.
He then drove to the Timbrook Public Safety Center, located about four blocks from Scott's apartment, and asked the Winchester Police Department to carry out a wellness check.
"As soon as I got back here, I got a text from [Winchester Police] Chief [John] Piper told me it didn't look good," Brandan said.
Realizing something bad had happened, Brandan returned to Scott's apartment and, if necessary, brought Harley back to the mission. The shelter had become Harley's home because Scott took her there whenever he had a doctor's appointment or anything else that kept him away from the apartment for more than a few hours.
"He had an emergency about six weeks ago and had to go to the hospital," Vicki said. "The firefighters knew Harley so they brought her to us."
Before Brandan could get to Scott's house, he received another text from the police department telling him that Scott was dead.
Autopsy results are still pending, but officials attribute his death to diabetes because they suspect that Scott, once alone and away from the staff and residents of the Winchester Rescue Mission, may have not being diligent with his diet and medication.
According to an obituary prepared by Omps Funeral Home in Winchester, Scott was a 1989 graduate of James Wood High School, a talented artist and music and sports fan who worked at Valley Industrial Plastics Inc. in Frederick County at the time of his death. dead. .
He is survived by a daughter, Autumn Ashwood of Wardensville, West Virginia, as well as a brother, sister, niece and several great-nieces and great-nephews.
"Scott also outlived his beloved canine companion, Harley," the obituary reads.
"You can't bubble wrap and shield your heart from life, and why should you? It's meant to be used, and sometimes broken." ~ Nora McInerny
Scott's death left Harley in distress.
"She was quite hungry and quite thirsty when she came home [to the mission]", Vicki said. "She was really struggling to walk because her legs were really irritated. … The vet said she was probably trying to wake him up."
Harley was sad, lethargic and confused the first few days, Vicki said, but she was comforted by the men staying at the mission. On her first night back, she curled up and slept in one of their beds.
A resident named Jerry, who has lived at the Winchester Rescue Mission for 20 years, was one of the first people Harley bonded with when she was adopted, and he was one of the first people she clung to his return.
"He'll tell you he likes cats, but he took care of her," Vicki said.
Harley also became Vicki's constant shadow, following her around the building during the workday. Vicki has set up a dog bed in her office so Harley can nap at her feet.
"She's very attached to me," Vicki said. "If I didn't have a dog with dementia at home, she would be at my house right now."
"If the misery of the poor is not caused by the laws of nature, but by our institutions, great is our sin." ~Charles Darwin
It takes a lot to anger Brandan Thomas, but he is absolutely furious at the lack of an assisted living facility in Winchester for people like Scott who are transitioning from homelessness to independence.
"Some people need to be in a place with some level of care," he said. "The independent apartment is not the solution for everyone."
When a person is homeless for an extended period, they often have to rely on others to help meet their basic daily needs. When that support system is gone and they have to do it all on their own, it can be a recipe for failure.
While the permanent supportive housing program available in the North Shenandoah Valley is valuable and needed, Brandan said it's not doing enough to help homeless people succeed in society. Scott, for example, had people watching him in his apartment every few days, but he didn't have a daily support presence that could have helped him watch his diet and make sure he was taking his medication as prescribed.
"It could have been completely avoided if he had been around people when he started getting sick," Brandan said.
When it's too late to save Scott, Brandan wants to make sure no one else suffers the same fate. Advocating for transitional housing in or near Winchester is something he plans to do until it becomes a reality.
"There has to be a way to create transitional housing where there's daily monitoring, people checking in daily just to make sure they're okay," Brandan said. "How many people have to die before we stop and review how this all works?"
"It's a modern day fairy tale. No happy endings, no wind in our sails, but I can't imagine a life without breathtaking moments." ~Selena Gomez
Harley is back to being herself these days. As Brandan and Vicki were interviewed at the mission earlier this week, the dog slept contentedly on the floor between them, snoring and gassing so loudly that she eventually woke up.
"She's settled into her normal routine," Vicki said with a laugh.
If Harley's life was a fairy tale, Chapter One would be her time on the streets, Chapter Two would be her adoption by the Winchester Rescue Mission, and Chapter Three would be sharing an apartment with Scott.
Now it's time for chapter four.
A former mission resident who has been successfully living alone for several months wants to bring Harley home to live with him.
"When he found out what had happened, he came in pretty quickly and she immediately went to him," Vicki said. "She was like, 'Oh, I know who you are.'"
"When he was living here, he and Scott basically swapped responsibility for caring for Harley," Brandan added. "He makes sure that with his schedule and his finances, he can take responsibility for Harley. I think that would be a great landing point for her. It would be for her to go with someone that she likes and who she is really familiar with."
When asked why Harley couldn't just stay at the mission permanently, Brandan said it was because the shelter was about to undergo some major changes. All of the men living there will soon be moved to a new shelter being prepared in a vacant building at 2655 Valley Ave., and the North Cameron Street shelter will be converted to a women-only facility.
"I don't know if it's fair for her to have a constant change of environment, what we do, how we do it," Brandan said of Harley. "We want what's best for her and it may not be here."
"I think she's going to be here for a while," Vicki added. "This will always be home to her. She is very much loved."