A Wisconsin mother dog starts a business to save her four-legged friend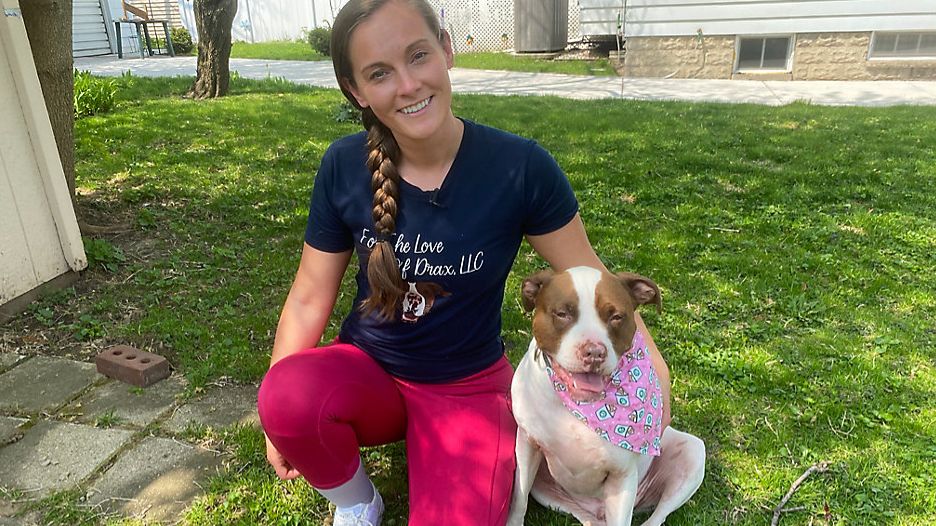 MILWAUKEE – "Man's best friend" is a common saying when it comes to dogs. For most people, however, it's hard to truly understand what that means until a dog is part of the family.
This is especially true for Staci Blythe. She adopted her dog, Drax, four years ago from a Milwaukee animal shelter.
"He's the dumbest, friendliest dog in the world," she said. "He's scared of everything and we have to remind him that he's a big, brave dog."
Staci said she had no idea what she got herself into when she adopted Drax four years ago. Drax has many health issues, including severe allergies.
"Grass, feathers, dander, mold," Staci said. "Obviously not letting a dog run in the grass is not feasible, so whatever he needs, we do for him."
It's a long list. In fact, Drax took an allergy test and he's allergic to seventeen different things in the environment.
"When I first got him, there were all these sores on the top of his head and he was only 12 weeks old at the time," Staci said. "I did not know what to do."
Drax's vet bills began to pile up, one $1,000 bill after another. Staci had to find a way to pay them. She was working as a physiotherapist at the time, but knew that would not be enough.
"That's why I started my business, which has now become my full-time job," Staci said. "The business existed to pay his medical bills, but now he exists because of the business."
Staci refers to For the Love of Drax, LLC. She single-handedly created it three years ago, by hand-sewing dog accessories.
"I used my eighth grade home economics sewing skills," Staci joked. "I just kept doing more, learning more, earning more and Drax's medical bills just kept piling up."
Staci's repertoire has expanded dramatically, from bandanas to bow ties.
"I make dog floats, I make bow ties, I make collars, I make leashes, I make bracelets, I make poop bag holders," she said. "Everything you need."
Staci estimated that she had now made and sold over 2,000 items nationwide. Its wares are sold in six Wisconsin stores, five in Milwaukee County and one in East Troy.
She also donates a portion of the proceeds to animal rescue groups across the country.
"Somehow I figured that out," she said. "There have been a lot of tweaks and product changes but, for the most part, it's just kept growing."
A true labor of love to rescue a shelter dog who has become his best friend.
"I knew bringing him back would never be an option from the moment he came home with me," Staci said. "I promised to give this dog a happy life and if that means opening a shop and learning to tie a bow tie, then so be it."
For more information on For the Love of Drax and to purchase Staci's items, Click here.