Dog Day features Instagram Star, K's best friend
August 26 may be the officially designated day, but every day is International Dog Day for Sohini Pillai and her Yorkshire terrier, Leia.
Pillai, who is an assistant professor of religion and director of film and media studies at Kalamazoo College, adopted Leia two years ago from California. It was at the start of the COVID-19 pandemic and Pillai was locked up at home writing her doctoral thesis. at the University of California, Berkeley.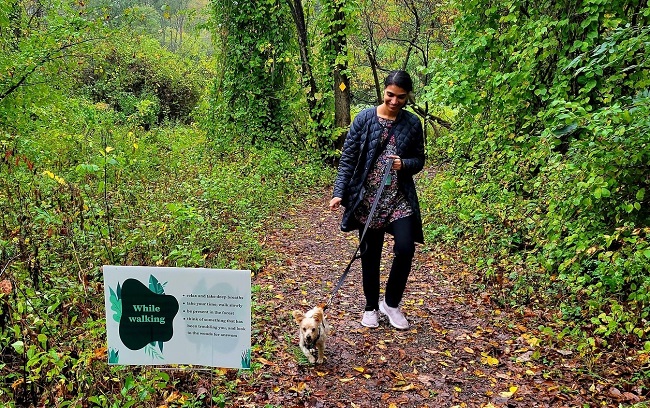 "I grew up with a Labrador retriever, and he was wonderful," Pillai said. "I'm an only child and I asked my parents for a sibling or a dog, and eventually they got me a dog."
Originally, Pillai planned to have a dog when she got a job. Then she realized that adjusting to a new job, a new city and a new dog at the same time could be disastrous. Maybe, she thought, now was actually the perfect time to get a dog.
Having lived with greyhounds during fieldwork in India, Pillai hoped to adopt a greyhound. However, she found herself sharing a space with neighbors with dog allergies. So when she visited the shelter, she asked for hypoallergenic dogs.
"I think I applied for about 25 different dogs," Pillai said. "During the pandemic, everyone wanted to adopt dogs because we were all at home. I had never had a small dog before. She was the one who was available, and I met her, and even though she is small, she really has a big dog personality.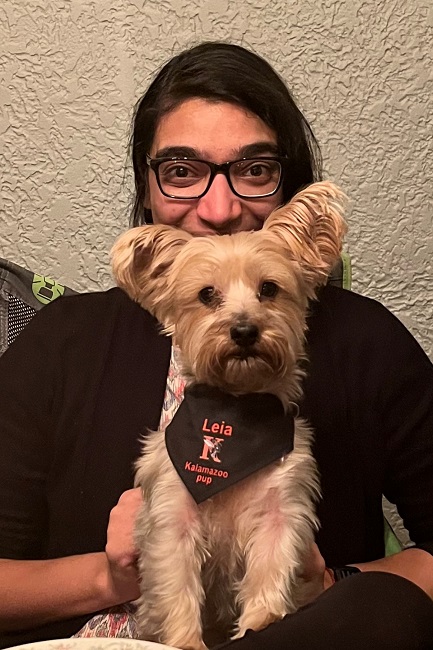 Named after the Star Wars Princess, Leia challenged Pillai's stereotypes of Yorkies being loud and rude.
"She definitely barks and lets people know she's there, but she's so friendly with kids and other people," Pillai said.
Leia became Pillai's writing buddy. Weighing just 12 pounds and suffering from separation anxiety, Leia would settle into Pillai's lap and sit with her the entire time she wrote. In addition to keeping her company, Leia forced Pillai to take regular breaks, get out and move, and even realize she needed glasses when she noticed how blurry their morning walks seemed.
"She made my life better in so many ways," Pillai said. "She made me much healthier and happier."
Although she was used to a warm climate, Leia adapted well to Kalamazoo when Pillai began teaching K in 2021. Although she had never seen snow before, the snow on the ground did not don't bother. Snowfall or rain, however, is another story.
"She hates the rain," Pillai said. "I have to put a raincoat on her and she's been holding her pee for 17 hours because she hates the rain so much. She doesn't like things falling on her. She's a bit of a diva or a princess that way.
Besides the weather, Leia is booming in Kalamazoo. She enjoys meeting neighbors, loves her local dog daycare center — where her best friend, Flower, is part gundog and part boxer — and has made many friends among K's faculty, staff, and students. .
She attends the Religion Department's Sunday potlucks and is a regular guest at other faculty gatherings and events. She met several faculty members' dogs and even, once, a cat (through a screen door). She modeled photos of a forest mindfulness path in the Lillian Anderson Arboretum, created by German K students with Kathryn Sederberg, Assistant Professor of German Studies Lucinda Hinsdale Stone, in October 2021.
Leia has visited Lake Michigan, explored other outdoor activities in the Kalamazoo area, and loves walking around the K campus. Sometimes people recognize her from her social media presence, including her own account. Instagram as @LeiaTheEwokPrincess. At dog daycare, she befriended Tank, a chemistry teacher and chair of Jeff Bartz's canine chemistry and biochemistry department, though Bartz and Pillai have yet to meet in person.
A huge Star Wars fan, Pillai teaches the saga in his Epic Epics class and mentions Leia quite often in his classes. Her desk is littered with photos of Leia, including an image of her as Princess Leia and another of her as Brienne of Tarth, a Game of Thrones character.
In May, Leia was able to attend two of Pillai's classes when good weather coincided with the dog daycare closing for a week. Pillai had just returned from his doctorate. graduation ceremony in California, where she learned that her 100-year-old grandmother had died in India.
It was a tough week for Pillai, who had been very close to her grandmother. Still, that day was one of his favorite days at K.
"We sat outside and Leia would go around the circle and sit on everyone's lap," Pillai said. "Students were holding her and cuddling her, and some teachers came out and met her as well. My students knew my grandma passed away, and some of them brought condolence gifts, and it was really sweet and just the best day.
Pillai is grateful for the circumstances that brought her to Leia, on International Dog Day and every day.
"She lives a pretty impressive life here," Pillai said. "I am sometimes jealous. She eats, she sleeps, she receives pets and cuddles and she is quite popular. She has many friends on campus.
"I can't imagine life without her."