Dog saves life of drowning owner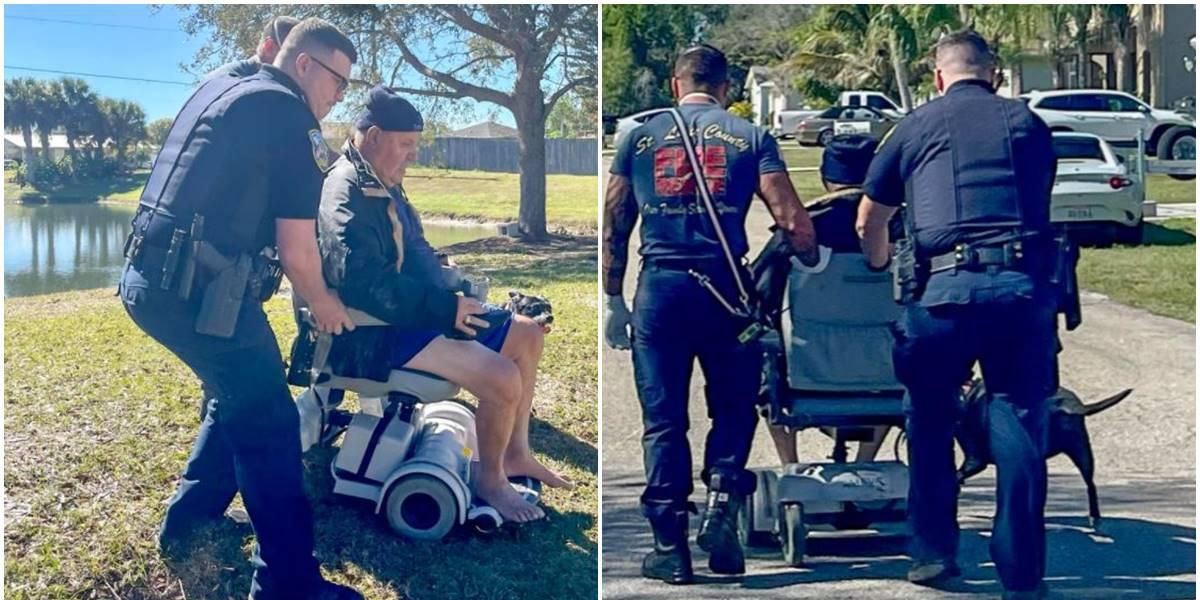 Eighty-one-year-old Harry Smith, who uses an electric wheelchair, was walking his beloved 9-year-old beagle, Sarah Jane, near a lake in Port St. Lucie, Florida, when the pleasant ride took place. took a turn for the worse.
Smith says the chair's left wheel "grabbed me and spun me around" and he ended up rolling down a grass embankment into the water. Smith cannot swim, could barely keep his head above water, and without immediate help would have drowned.
Sarah Jane began barking loudly, catching the attention of Edward Suhling, 58, who was working on a trailer with Aby "Jacob" Chacko, 49. the street," the Port St. Lucie Police Department wrote in a Facebook post.
At first Suhling thought the dog was being attacked by an alligator, then he saw Smith's head stick out of the water. Suhling and Chacko ran towards the pond, waving at a policeman along the way.
---
"As soon as I got here I saw the wheelchair and the dog and recognized it was Harry and I know he can't walk," Chacko said. Smith was in terror, fighting for his life in the pond. "My legs don't work," he says. "I can't push."
"The dog was wading through the water," Suhling said. "So we both ran over here and I jumped in the water, and my buddy grabbed his arms and I grabbed his legs and we pulled him back to shore."
After Smith got out of the water safely, the officer administered medical treatment and he was allowed to return home. Unfortunately, his wheelchair wasn't working, so the officer took him home.
The Port St. Lucie Police Department then called out heroes Suhlih, Chacko and Sarah Jane on their Facebook page. "We are grateful for Mr. Smith's dog and the two bystanders who helped save his life!" wrote the police department on Facebook. "And as the saying remains true… A man's best friend is his dog."
"He's such a good dog," Smith later said of Sarah Jane. "Everyone in this neighborhood loves her, they all watch out for her." Once the couple got home safely, Smith was sure to give his dog a treat. "I love her, always have loved her, always will," he said.
While the dog's heroism is pretty incredible, there are several reasons why Sarah Jane knew Smith was in danger and took action. Many dogs have a strong fear of water. Not all like it like Labradors. If Sarah Jane had been afraid of water, she would have sensed that her guardian was in grave danger.
Second, a 2020 study from Arizona State University tested whether dogs would help if they thought their owner was in trouble. For the study, the owners called the dog while appearing to be trapped inside a box. In most cases, the dogs attempted to free their owners after hearing them cry out for help.
The story of Sarah Jane and her guardian Harry Smith proves, once again, that we simply don't deserve dogs.
From articles on your site
Related articles on the web