Longtime Shelter Dog Finds A Forever Home In Emporia | Free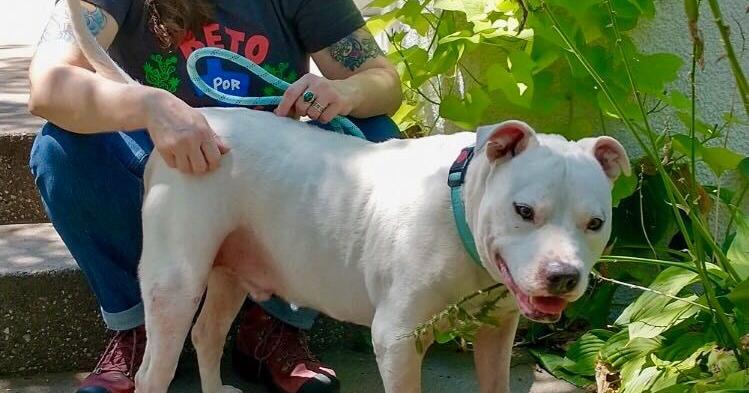 There is an old saying that every dog ​​has its day. For a longtime resident of Emporia Animal Shelter, that day finally arrived a few weeks ago.
Ransom, a clumsy and lovable pit bull, had a long time at the shelter. A senior dog and an intimidating breed, Ransom had the odds against him when it came to finding a forever home.
The director of the Humane Society of the Flint Hills, Stephanie Achille, described Ransom as a "long-stay, obnoxious but lovable, partially deaf old man" who had spent about a year at the shelter before his adoption.
Senior dogs have an adoption rate of about 25%, according to the American Society for the Prevention of Cruelty to Animals. The ASPCA also said bully breeds are more likely to be adopted when a shelter does not include their breeds in an adoption description. But, that changed for Ransom when Amanda Hague and Ben Hayes came to visit the favorite hideaway.
Achille said shelter staff were so hopeful Ransom had found his people that they went above and beyond to make a match, arranging a special home visit.
"We are rarely able to do this for people [and] animals, but we went after hours and not on the clock because we love Ransom so much," she said.
During the visit, Ransom met the couple's other dog, Brisco, who had also been adopted from Emporia Animal Shelter several years ago.
"He has a couple of kitten cousins ​​in his new home who they like to nap in the same room and his brother Brisco who he also plays and sleeps with on the couch," Achille said.
To celebrate Ransom's "gotcha day," shelter staff decorated their enclosure with balloons and provided special treats for all of the dogs in the residence. Suffering from some hair loss prior to her adoption, Ransom's allergies mostly cleared up on a diet of dry, raw foods.
Lyon County Emergency Communications Center Director Roxanne Van Gundy also came out for the celebration and took pictures.
"She was so much fun to have at the shelter," Achille said of Van Gundy. "Her relationship with us in general is great – her photography skills and her time. And it's also great that she's so supportive with the dispatch team.
If you're looking for your new best friend, visit petfinder.com/member/us/ks/emporia/emporia-kansas-animal-shelter-ks100 to see all of the shelter's adoptable cats and dogs.